NOTE THAT THIS ACTIVITY IS PLANNED TO RESUME AFTER SCHOOL HALF−TERM. Confirmation is expected shortly


Little Gems Toddler Group meets on Thursday morning from 10.00 a.m. until 12 noon (term time only) and offer a friendly and safe environment for parents and carers to bring pre-school children for a time of informal play.

Activities include crafts, playdough, ride on toys, play kitchen and carpet toys.

The singing and rhyme time before we go home is always popular!

It's also a great opportunity for parents and carers to chat over a cup of tea or coffee and make new friends.

We are always happy to welcome new families and there is still room for more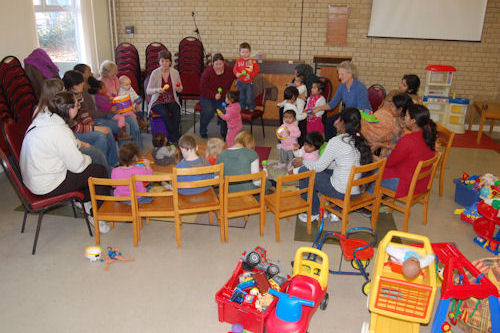 Notes:
Your Toddler team are volunteers who run this group on behalf of the Salvation Army Church
Please sign your name and your child′s name in the register and fill in a registration form if this is your first visit. This information is kept strictly confidential and is not shared with any third party.
A small charge of 50p per family covers the cost of tea or coffee, biscuits and juice. Please help yourselves.
Your child can choose to do any activities they wish, which include table play such as Playdough and puzzles, ride on toys, train set, home area and carpet toys and you can have a good chat with the other mums, dads and carers.
At approximately 11.40 we gather round the carpet for singing and rhyme time before we go home.
It is important that you take responsibility for the supervision of your child at all times.